Fledge is far more than its small staff.  The programs are made possible by the hundreds of volunteer mentors who share their advice with the fledglings, and the hundreds of other supporters who come to the various events, to further connect the fledglings with potential customers, vendors, and partners.
Staff
Luni Libes, Founder and Managing Director of Fledge Seattle
Fledge was founded and is managed by Luni Libes


, a 25+ year, serial entrepreneur, founder of six startups; Entrepreneur in Residence and instructor at Pinchot University; and Entrepreneur in Residence Emeritus at the University of Washington's CoMotion, the center for impact and innovation.
Luni is the author of The Next Step, a series of book and classes guiding entrepreneurs from idea to reality; plus blogger and incessant answerer of entrepreneurs' questions on Quora.
If the pattern is not obvious, Luni spends most of his waking hours helping entrepreneurs.
Roberto Persivale, Managing Director of Fledge Peru
Fledge Peru was created and is managed by Roberto Persivale

, who started his career in mining and hotels, then in 2001 moved on in to provide guidance, connections, and fundraising for large and small startups in Peru and across Latin America.  Roberto is a partner at Asesorandes, a business consulting firm.
Advisors
Fledge was inspired into existence by Brian Howe
, sustainable attorney and founder of Impact Hub Seattle, with help by Rashmir Balasubramaniam

, founder of Nsansa, and fellow faculty at Pinchot University, and Sonya Erickson

, attorney at Cooley.
Advising Fledge is an amazing group of individuals, including Will Poole

and Dave Richards

, co-founders of Unitus Seed Fund; Bill McAleer

and Enrique Godreau

, founders of Voyager Capital; Tom Huseby

, founder of Seapoint Ventures; and Gifford Pinchot III
, founder of The Bainbridge Graduate Institute (later renamed Pinchot University in his honor).
Mentors
Advising the fledglings are a (growing) network of over 350 mentors.  This group includes people who have built successful startups, some of which who have subsequently retired, and others who can't stop and are working on their next business plan.  This group also includes many individuals who wouldn't dare be a founder, but who have deep knowledge useful to founders, in marketing, sales, finance, and fundraising.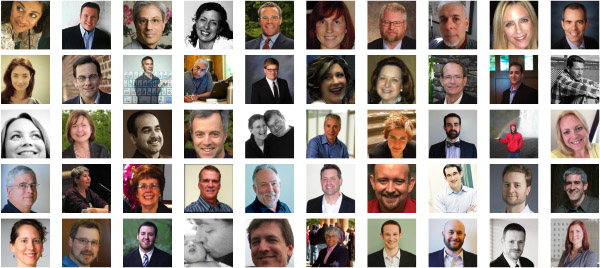 It takes a tremendous breadth of knowledge to be a startup founder.  Sometimes what you need is a speech coach, or someone who can teach you improv.  Someone to help you with a great company name.  Someone who "carries a bag" and closes sales for a living.  Or a professional investor, to teach you the in's and out's of raising capital.  Or a banker, or lawyer, or CFO for hire.
While some accelerators aim to impress with a list of famous mentors, we aim for breadth and depth of knowledge, quality of advice, and we aim to smother our participants with more guidance than they ever imagined possible.
If you fit this mold and would like to be added to this list, please contact us.