Fledge is part of a greater ecosystem of sustainable, socially-conscious, high impact, conscious organizations: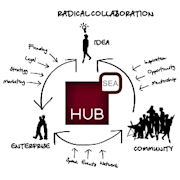 A coworking and events space for inspiring people.
Focused on supporting entrepreneurs who are building ventures for the common good, the Impact Hub is both network and nexus—equal parts office, clubhouse, and café combined in a comfortable community for making connections, inspiring each other to excel, and progressing toward individual goals. With blazing fast Internet access, inspiring meeting/work spaces, and a full-time concierge support staff, the Impact Hub is your one-stop-shop to find the resources, partners, investors, and education that your venture needs.
Sustainable / Social / Impact / Conscious Ecosystem
Other organizations that help foster entrepreneurs

B Lab is a non-profit organization dedicated to using the power of business to address the world's most pressing challenges, supporting entrepreneurs who use business as a force for good, building a business community and the market infrastructure necessary to create a new sector of the economy that will redefine success in business.
Pipeline partners
Other accelerators, Angel groups, and funding sources