Watch the Fledge5 "Demo Day" video: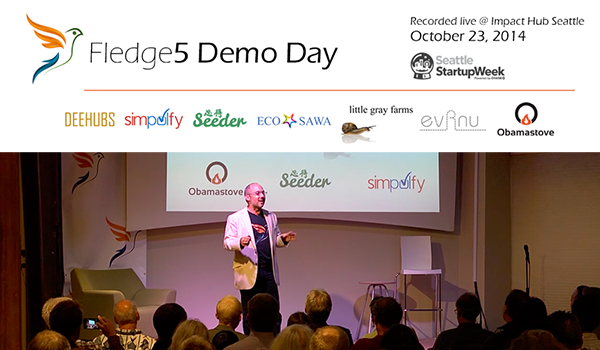 https://vimeo.com/channels/fledge5
Seven inspirational, mission-driven, for-profit companies, aiming to improve the world in seven ways:
    Making cotton recyclable
    Making digital billboards social
    Making China's buildings greener
    Bringing affordable, clean-burning cookstoves to every Ethiopian
    Bringing transparency to government
    Bringing fresh escargot to America
    Hoisting Kenya out of poverty
---
Watch the Fledge4 "Demo Day" online anytime, recorded live on May 7th, 2014 and featuring:
Activate Hub - An online tool for finding the people, organizations and events that impact your community, offline.
Broad Street Maps - Bringing mapping solutions to global health organizations
Distributed Energy Management - A unique approach to energy conservation
EA Fruits Farm - Fruit and vegetable production, aggregations, and distribution in Tanzania
Juabar - Solar cellphone recharging kiosks in Tanzania and East Africa
Karibu Solar - Affordable solar lighting solutions for Tanzania and East Africa
Plus special guest Mal Warwick and an update from BURN Manufacturing


---
The Autumn 2014 fledgling took to the stage in November, sharing their visions and inspired a standing-room only crowd.  Watch the on-stage talks here.  Featuring:
Self Spark - Science meets self help
Hydrobee - Renewable power for all your USB gadgets
The Buy Nothing Project - A community of collaborative consumption
myTurn - Making online rentals as easy as online sales
Community Sourced Capital - Crowdfunding loans to local businesses you love
Village Green - An online "needs" exchange for entrepreneurs
Close to Home - The post-disaster housing marketplace
Plus an overview of conscious business by the Kauffman Foundation's ID8 project, and a quick definition of tradition.

---
if you missed the Spring 2013 Demo Day, watch it now…

The Winter/Spring 2013 "fledglings" got up on stage and shared their visions and plans with you and the world.
Tansa Clean (a.k.a. Brown Box) – "Valuing" the stream of of human waste in India
Serve Smart - Preparing volunteers for effective service
Kodeza - Crowdsourcing local knowledge to create local change
Shift Labs - Simple, inexpensive, human-centered medical devices for global markets
Snohomish Soap - Organic, homemade soap, via a distributed women-powered manufacturing network
UbrLocal - Connecting local food producers and consumers
Localista - A customer loyalty network for and by your local businesses
What did you miss?  Read the wrap-up, or this write-up, and watch the videos.

---
And if you missed the Summer 2012 Demo Day, watch it now…

Seven inspiring companies with the potential impact to improve the lives of billions… to save millions of lives… to make it easy to share and reuse the planet's limited resources… to make it easy for us to share our time with those in need… to recreate the world where we know our neighbors… and to work with those neighbors to create the world we want to live in!

These companies presented their visions and plans on-stage on Sunday, September 23rd, at the Playhouse/Intiman Theater at the Seattle Center as part of the Seattle Next 50's celebration of commerce and innovation.