Fledge, the conscious company accelerator, continues to expand, adding two new cities in 2018: Vancouver, BC, Canada; and the Padua, Italy.  Plus the program returns to Seattle in the second half of the year, will return to Lima and Barcelona soon, and is expecting to launch in Lisbon, Portgual any time now.
This all gives entrepreneurs multiple chances to apply to Fledge in 2018.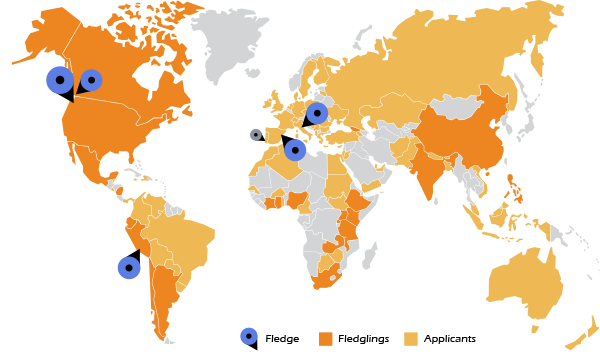 The IMPACT StartUp Visa Program has already started in Vancouver, but if you are interested in moving your impact startup to Canada, applications are open now for their second session.  spring.is/programs/impact-startup-visa
If you has an environmentally-conscious startup, apply to The Nature Accelerator at the University of Padova.  f6s.com/ecostar
For impact startups of all types, for Seattle and any other city program that launches this year, you can fill out just one application.  f6s.com/fledge14
The Nature Accelerator is similar to Fledge Seattle, Fledge Peru, and Fledge Barcelona, providing an investment to each invitee along with an invitation for 10 weeks of the more intense training and mentorship than you can imagine.
The process for all of these programs is similar.  Many entrepreneur apply.  We use the applications, additional questions, and interviews to narrow the list down to seven or eight invitees.
More and more of those applicants are repeats that we've seen before.  It is often now taking two or three applications to receive an invitation as the number of applications and the quality of applicants continue to grow.  If you think you are too early for an accelerator, apply, as that will give us a better view of your progress when you are ready.  And if you've applied before, apply again, as progress and persistence are two good indicators for the screeners as they winnow the applicant pool from hundreds to a handful.
More details, as always, at About, About/Details, About/FAQ, and About/Locations, plus don't miss the Annotated Application for answer by answer advice on how to make your application shine.